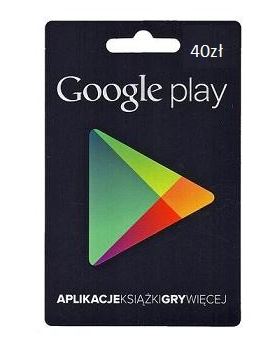 Google Play Gift Card (PLN) with a face value of 40zt for an PLN account. Also, you can change the billing address on your personal account and activate the gift card.
The code you receive instantly after payment.

A gift card can be used to purchase content on Google Play. When you activate the gift code, your Google Play balance will be refilled by the appropriate amount. With promotional codes, you can also add balance or purchase specific applications and digital content.
How to activate a gift card, gift code, or promotional code
Open the Google Play Store app.
Click the menu icon Menu on Activate promotional code.
Enter a code.
Click Submit.

Activation on the computer
Go to play.google.com/redeem.
Enter a code.
Click Activate.

Activation when purchasing content on Google Play
Start ordering.
On the page with the available payment methods, click the down arrow down the Next button.
Enter a code.
Follow the instructions on the screen.

Please spend 10 seconds of your precious time and leave us a positive feedback after the purchase.
03.09.2019 22:03:49
Good job thanks
03.09.2019 22:03:45
Good job thanks
06.05.2019 9:12:19
good seller
28.04.2019 22:22:14
checking code