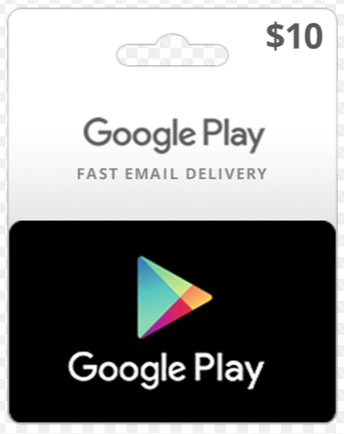 Before buying, please read the product description.
| Shipping Information |
After payment, you instantly receive Google Play Gift Card 10 USD. After receipt, you activate the product and notify us. This is necessary in order to minimize resale on the trading floor.
| Introductory Information |
• Price list for this product, equal to + 90% of the nominal value, for regular customers, a privilege in the form of a decrease in% is possible.
• Attention: This card can be replenished only by the American (USA) Google Play account!
In the American Google Play Store the largest selection of games, music, movies and programs for the Android.
What gives Google Play Gift Card USA?
• By completing the Google Play account you can make purchases on the Play Store - games, movies, music.
|System of bonuses and discounts|
• When making a purchase, the buyer by the total amount - receives a total discount. The more purchases - the more discount.
• Making a lot of purchases (iTunes products), anyone can become a "regular customer" - by getting an individual Discount/Present. (Discount from 15% / Present as a digital product |GIFT key).
> A prerequisite will be leaving a "positive feedback".
Dear buyer, we sell only official product, at market prices, you can make sure in person - making a purchase. As your security, we strongly recommend that you record the purchase process and before activation (with time/date stamp), in case you have doubts. The claim will be considered only if there is a video and the fact of the problem. Thank you for your understanding.
Activating (canceling) the Google Play card:
- Go to
http://play.google.com/redeem
- Sign in to your account or create a new one
- Activate the PIN code from the gift card
- Have fun and enjoy great apps
You can top-up the balance from your Android device through the Google Play Store app -> Redeem!
====================
Dear buyer, please note that we adhere to our work, in which we undertake to provide the goods, provide it in working form and bring you to satisfaction, but in turn expect you to adequacy.
•If you have a problem, you need at least to unsubscribe to the seller in correspondence and as a maximum to wait for the answer. This is the circumstance in which your situation will be considered surface, with a quick solution to the problem. If you want to give motivation for even faster, you can leave positive feedback, with appropriate content.
•If you have a problem and you do not notify, without a solution, leave negative feedback, your situation falls under the detailed consideration, and this increases the waiting time for its solution. Negative feedback is a good reason, in which there is a need to analyze the problem more carefully.