Content: (0 B)
Available: 0
Uploaded:

Positive responses: 12
Negative responses: 0

Sold: 192
Refunds: 0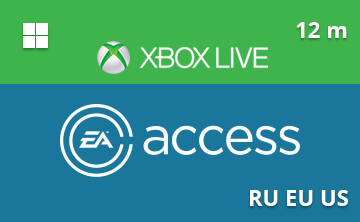 EA Access will allow you to play great games from the ever-growing collection from the publisher Electronic Arts. Play trial games before they go on sale. Get exclusive discounts.

By purchasing EA Access, you will receive:

• Ability to play novelties from EA for a limited period of time before they go on sale. Game progress and statistics will be saved, and you can continue to play from the place where you stopped, if you decide to purchase the game when it goes on sale.

• The Vault - Full subscription access to the regularly growing collection of EA games such as Battlefield 4, FIFA 15, Madden NFL 15, Need for Speed ​​Rivals.

• 10% discount on all digital purchases of goods from EA on Xbox One. Save on full versions of games, pre-orders, add-ons, Ultimate Team Points and everything else.


Availability of products in The Vault may depend on the region. To activate your subscription, you need an Xbox Live account. To access the network capabilities of certain games, Xbox Live Gold is required.
After payment, we are grateful for the positive feedback. They raise the rating, which allows to reduce the price for you!

===========================================================
01.10.2018 14:23:04
СПАсибо +++
14.07.2018 20:25:43
Все сработало с 1 раза, отлично!
07.12.2017 23:33:53
Активировал сразу, без проблем. Спасибо=)
06.12.2017 18:38:01
Все отлично, спасибо)
25.11.2017 20:55:14
Все круто!
24.11.2017 23:35:07
Все круто!
24.11.2017 12:35:58
Все хорошо, спасибо)
17.11.2017 19:17:48
Все отлично, спасибо)
14.11.2017 14:07:58
Все отлично, спасибо)
19.10.2017 20:14:18
Гуд. все прошло как по маслу.
28.09.2017 12:28:00
Все отлично, спасибо)